August 2001 Membership Newsletter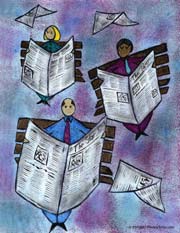 WE SURVIVED WICHITA!
This last weekend July 19-22nd, three members of SWAGS represented UMKC at the pro-choice rally in Wichita. It was a crazy weekend but we sucessfully defended Tiller's clinic. Moira Ferguson, Pat Whiters, and Kasia Rutledge helped to make sure that all the patients got into the clinic and we have the bumps and bruises to prove it. We will soon have pictures and a fuller update on the week.
In the meantime- if you want to see how the jaded opposition thinks the weekend down- go to www.jesusisthestandard.com but be warned about the disquesting fack pictures that they carry around pretending to be aborted fetus pictures.

We also have designed t-shirts and they are for sale- we are asking 7$ a piece to cover the supplies for making them. I will soon have a front and back picture of what they look like on here. If you would like to order one please e-mail me at kasiaeryn@hotmail.com, tell me how many you want, in what sizes, and give me a number to reach you at. I hope to have a form letter to fill out.

Another upcoming event is next Wednesday July 25th. At 12:45 in Pierson Auditorium Maquilardora workers are doing a presentation on working conditions in Mexico. After the presentation ends at 2:30 we are all climbing onto a bus and going to research medical center to engage in a protest to support Nurses United! and the right to unionize. Please join us! For more infor e-mail me at kasiaeryn@hotmail.com

The 2001-2002 school year is going to be a very busy one for SWAGS.

We are in the process of schedualing an open house to which we are going to invite all the wymyn and gender groups in the KC area on Sept 15th. If you would like more information about this event please e-mail us or call us at the above number.

Please be paitent and keep in mind that this webpage was created on July 15th. It is a work in progress!